I'm sure we've all done them at some point to try and get these elusive pelvic floor muscles working but stop right now! These mistakes are preventing you from feeling strong and getting back to the exercise you want to. They are preventing you from stopping your leakage and they are preventing you from having amazing sexual pleasure. Read on to see what you can do instead.
When you are doing your pelvic floor exercises try to avoid theses common mistakes below.
​
3 most common mistakes:
Tilting your pelvis – now we know this can be great for pelvis mobility and good for sexual pleasure but it does not help with your pelvic floor muscle activation while exercising! You want to find a neutral position with your spine and pelvis. So when you're lying on your back, make sure your tailbone firmly rests on the ground without moving while you do your exercises.
Squeezing your butt cheeks together like there is a $100 note you don't want to let go of – This is working your outside buttock muscle (your gluteus maximus) not your pelvic floor muscles. Yes your pelvic floor muscles go from your pubic bone at the front all the way to your tailbone at the back including around your anus but squeezing your butt cheeks is not going to get them working. Instead relax your buttock and focus around your vaginal area to connect with your pelvic floor when exercising.
Clenching your outer abdominals – this is probably the most common mistake I see in the clinic. We're so used to our rectus abdominis (6 pack abs) working that we forget there are deeper layers of muscles underneath. It's also very hard to take a deep relaxed breath with these muscles working (hint hint – if you're struggling to breathe at the same time as pelvic floor exercises this is probably why) Put one hand under your rib cage and the other deep down towards your pubic bone. The hand under your rib cage shouldn't feel anything working underneath just relaxed and resting while you're exercising. You can also think about your body being in half – the top is breathing and the bottom is gently lifting and squeezing through your pelvic floor muscles. Remember the feeling is all internal.
Hot Tip: your pelvic floor muscle contraction won't feel like a big bicep contraction, they are small muscles and they are internal. I think one mistake people make is expecting if to feel like this huge contraction. It won't, it will be subtle.
Long term we do want our pelvic floor muscles to work with our deeper abdominal muscles with more functional exercises but that is down the track once you have mastered the pelvic floor muscles alone. Our Pelvic Floor strength systems for pregnancy and our new mum recovery program work with you every step of the way. Starting at the basics with video instruction and through to more functional exercises including your deep core and pelvis stability.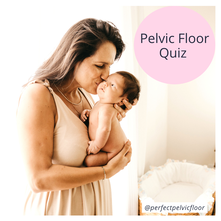 ​Unsure how strong you are?
Or if you can activate your muscles?
Take our Pelvic Floor Quiz for pregnancy or new mum's to find out how strong you are!