Everything you need to know about your Pelvic Floor Muscles
There is a lot of talk about pelvic floor muscles, pelvic floor exercises and kegels lately. Do you think your pelvic floor muscles are as important as everyone says they are?
Do you know what they do? Well that's what I'm here to tell you about. To let you know everything about your pelvic floor muscles. 
These muscles have so many roles and really important ones too:
Help keep your organs inside and lifted

Prevent and stop urinary incontinence

Supporting you during your pregnancy 

They help guide your baby into your birth canal 

Holding wee and poo in continuously without you even thinking about it

Helping you feel pleasure by arousing your clitoris and increasing the sensation of your orgasms
I'd say they are pretty important muscles! And ones I would want to know about! Wouldn't you agree?
Especially considering most of this happens without you thinking about it. Pretty intuitive body we have!
Where are these muscles? 
They are shaped like a hammock or a half moon running between your pubic bone at the front and your tailbone at the back around in a loop so when the muscles contract they shorten and close off the area. Obviously there is a lot of structures here from ligaments, bones, blood vessels, nerves and connective tissue but the muscles of the deep pelvic floor are:
Pubococcygeus (PC muscle)

Iliococcygeus

Coccygeus

Puborectalis – the muscles runs between the outer layer and the deep layer so it's more like a middle layer but acts like a constrictor as an outer muscle does. 
These make up your Pelvic Floor Muscles (Levator Ani)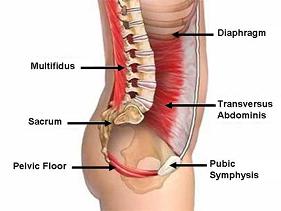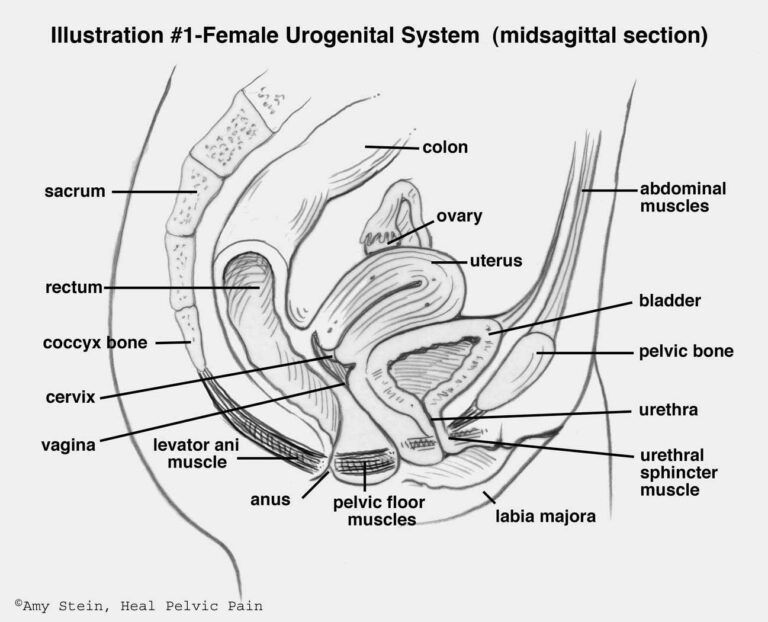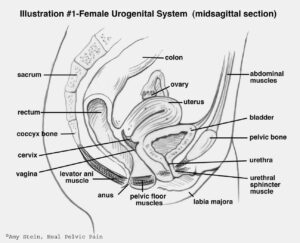 So where do things go wrong? Why do the muscles stop working well?
Pregnancy – just the physical load on your body and the anatomy of your pelvic floor is enough to cause issues. Worse if you're not strong to start with.  
Labour – You are at risk of major trauma like perineal tears with a forceps & vacuum delivery. Where instrument use is necessary, episiotomy will significantly reduce your risk of OASI (Obstetric Anal Sphincter Injury – 3rd/4th degree perineal tears) especially if it's your 1st child and you are needing forceps. OASI is a significant risk factor for anal incontinence. Also just add in the generic trauma associated with labour to this area, the muscles take time to recover and get functioning again.
Genetically – your pelvic floor consists of muscles and connective tissue based on type I & III collagen fibres. These fibres can have a genetic weakness factor, so some people are more prone to weakness in their pelvic floor muscles without any other contributing factors. (Hence why I love collagen support – read more on collagen )
Weight training – heavy prolonged weight training without the appropriate engaging of your pelvic floor or correct technique for your pelvis puts you at a higher risk of having pelvic floor dysfunction.
Coughing – prolonged coughing can increase the pressure load acting downwards on the pelvic floor muscles, if the muscles can't sustain it with strength or active engagement when coughing pelvic floor dysfunction can occur. 
Bowel Straining – As above with the pressure pushing down on the muscles, they sometimes weaken and reduce their resting tone with the pressure against them periodically. Especially if this has been chronic constipation or straining.
Alcohol, caffeine & dehydration – they can make your urine more acidic which can make you need to urinate more frequently which can change the way the bladder works and how it interacts with the pelvic floor. (read more on the bladder)
Pain & Swelling – pelvic pain, back pain, endometriosis etc can make these muscles switch off or slow down like they aren't quite getting the message from the brain. Not to mention to trauma of birth within the pelvis. 
So how does it feel when your pelvic floor muscles aren't working properly?
Leakage

More frequent urination

Urinating through the night

Feeling of not being able to hold on to your urine (don't want to jump or run)

Back pain

Lack of sensation during sex

Pain with sex

Constipation

Feeling like everything is falling out down below (heavy feeling)

Feeling your stomach bulging out when you get up of the chair

Lack of pelvis stability (wobbly or not quite working right when you exercise)
Tips to keep your pelvic floor and vagina working well and feeling amazing!
In General:
No soaps/moisturisers with chemicals – can irritate and cause infections.

Pelvic Floor Exercises regularly – start with one of our pelvic floor and core programs see results within 2 weeks. (See programs) 

No straining to urinate or do number 2's – This puts extra pressure on your pelvic floor muscles by increasing your intra-abdominal pressure downwards. This can lead to a pelvic floor dysfunction or to a risk of prolapse. Instead lean forwards with your trunk, lift up your heels so you're on your toes and relax your pelvic floor muscles. 

Pelvic floor muscles activated when doing weights or lifting anything including your baby. This is where you reach a functional level of pelvic floor control. It will make you feel stronger and also protect you from a possible pelvic floor dysfunction or risk of prolapse. 

Good quality collagen for type 1 and II fibres to help improve the quality of your muscles and ligaments surrounding your pelvic floor. 
Pregnancy & Birth
Ice Pads after birth or Padsicles – to help with the healing process and reduce any swelling. Spray your pad with water and witch hazel (distilled – avoid any that have alcohol in them) if you like, fold the pad back up and freeze in a freezer bag. Let them thaw for a few minutes prior to use, then use up to 10 minutes every hour as needed in the first 24-36 hours after birth. 

Warm compress during pregnancy – helps your vulva tissue relax prior to labour. 

Perineal massage during the late stage of pregnancy (from 34 weeks) to reduce your risk and severity of 3rd & 4th degree perineal tears, reduce your risk of episiotomies & decrease your perineal pain after labour. Follow the instructions and use a natural based lubricant. (Read more)
Sex
Well lubricated before sex – as the pelvic floor muscles help with stimulation to the clitoris and can increase arousal. Try doing some pelvic floor exercises before having sex in particular the Vagina Wink. Other options include using a natural based lubricant. We love Olive & Bee Intimate Cream. 

Urinate after sex – can help reduce the risk of urinary tract infections which due to the increase in frequency of urination and the acidity can affect your pelvic floor muscle function. 
Do we always need to do pelvic floor exercises?
The simple answer is yes. But think of it like this, do you always need to eat well to feel good? Or put petrol in your car for it to work? Do you want your muscles to be functioning well when you're into your 80's and live a great life being able to exercise and move about like you want to?

It's also best to have a pelvic floor exercise program that targets your muscles specifically so you can feel what it feels like to you when your pelvic floor muscles are working well. Everyone is different and everyone will feel it differently. Then you can add more functional movements so your body learns to use these muscles again without you thinking about it. Like our programs at PPF!
No matter where you are on your journey we have a program for you.
So what can you do?
Well for starters take this Pelvic Floor Quiz so you have an idea of how strong you are!
Then try our 3 day trial on the PPF App and see for yourself. You'll feel your muscles in 3 days and really see a difference in 2 weeks.  
References:
Okeahialam NA, Wong KW, Jha S, Sultan AH, Thakar R. Mediolateral/lateral episiotomy with operative vaginal delivery and the risk reduction of obstetric anal sphincter injury (OASI): A systematic review and meta-analysis. Int Urogynecol J. 2022 Jun;33(6):1393-1405. doi: 10.1007/s00192-022-05145-1.
Dieb AS, Shoab AY, Nabil H, Gabr A, Abdallah AA, Shaban MM, Attia AH. Perineal massage and training reduce perineal trauma in pregnant women older than 35 years: a randomized controlled trial. Int Urogynecol J. 2020 Mar;31(3):613-619. doi: 10.1007/s00192-019-03937-6.
Abdelhakim AM, Eldesouky E, Elmagd IA, Mohammed A, Farag EA, Mohammed AE, Hamam KM, Hussein AS, Ali AS, Keshta NHA, Hamza M, Samy A, Abdel-Latif AA. Antenatal perineal massage benefits in reducing perineal trauma and postpartum morbidities: a systematic review and meta-analysis of randomized controlled trials. Int Urogynecol J. 2020 Sep;31(9):1735-1745. doi: 10.1007/s00192-020-04302-8.