Wow what happened to my stomach? It looks like it's split in half and not working. I feel bulging coming out when I stand up, it's flabby and it feels so weak! I feel horrible.
Does this sound like you?
It's very common after pregnancy, It's called Diastasis Rectus Abdominis (DRA) or abdominal separation. Where the tummy muscles have stretched and the fascia has separated leaving you feeling weak and flabby.
​Here's what you can you do about it!Abdominal Separation

DRA: This is where the fascia (I like to think of it as a piece of glad wrap over the top and in between your muscles holding them all together) and connective tissue between your Rectus Abdominis (6 pack muscles) has stretched and weakened leaving a gap between your muscles.
​Add in the skin over the top stretching and it looks and feels like a mess. Don't worry! It doesn't have to be this way.
​
So why is this a problem?
It can lead to weakness in the stomach muscles leaving you at risk of back pain and postural related pain.
It disrupts the lumbo-sacral support and muscle system. (lower back and pelvis area)
DRA and Pelvic Floor dysfunction often go together (See our FAQ's for PF dysfunction)
A thinner lining of the abdominal wall creates less support for your inner organs and can leave you at risk of a hernia of your bowels.
​
Alarming Facts:
100% of women have some level of separation of the abdominal muscles in the third trimester. (Hilliard and Brown 1996, Diane Lee 2013)
For a lot of women with DRA their gap closes significantly between day 1 and 8 weeks post baby. However if their gap remains widened at 8 weeks and if left untreated the gap at 8 weeks remains the same at 1 year post baby. (Cauldron et al 2008, Liaw et al 2011)
66% of women with DRA were also found to have a pelvic floor dysfucntion Eg Incontinence, pelvic organ prolapse. (Spitznagle et al 2007)
What NOT to do!
Crunches! This is a no no as it increases your intra-abdominal pressure and your stomach muscles and pelvic floor aren't ready to cope with that. It can make your bulging worse and harder to recover from.
Planks without sufficient Pelvic Floor and TA strengthening first.
Bracing your stomach muscles – this can increase the bulge from within.
High impact sport without inner core and pelvic floor strengthening first.
So what can you do about it?
​Core exercises to reduce your abdominal separation, especially an exercise called a head lift which aims to ensure your pelvic floor muscles are switched on, your TA (deeper core muscle) is working and a slight head tilt to allow the outer abdominals to contract. Adding extra hand pressure to your muscles to push them closer together and down towards your spine. There is no bulging or doming from the tummy outwards! This is a key exercise of our New Mum Recovery Program which is so important given your best chance of recovering these muscles is within the first 8 weeks after birth.
​Be careful with getting up from the chair or bed, use compression with a towel or your hands around your tummy for the first few weeks.
Be careful lifting your baby – try to use your pelvic floor muscles and TA as best you can.
Wear recovery support shorts – we love the SRC recovery shorts to give you that extra compression and support in your early phase.
Ease back into exercise with gentle walking and a pelvic floor strength and recovery program first.
So even though you might feel like there is nothing you can do, there certainly is. Start with pelvic floor exercises to reduce your abdominal separation, then build up your core muscles through our New Mum Recovery Program. Remember the best chance at closing your abdominal separation is within the 1st 8 weeks of having your baby using core exercises.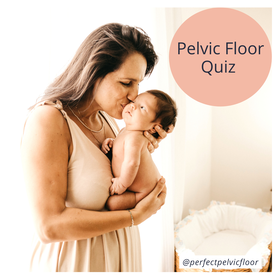 ​Want to find out how strong your pelvic floor is?
​Take our quiz.