Collection Day!
​
"You want me to do what to myself??" was the thought running through my head…..
Inject 3 needles a day into my stomach that's still sore and swollen from my laparoscopic surgery. Oh WOW! Once I calmed down from the initial shock, I found it really hard to make a choice to physically do that to myself without knowing how it might affect my mind and body. Would I feel out of control, emotional? Would I be able to hold it together enough to work? How would my body react? I had to really take a few days to sit in the uncertainty to be ok with my choice, knowing the end result would be worth it. Having the initial conversation with the nurse at the fertility centre really helped with this decision. Lots of information but they answered all of my questions and there was no pressure to make a quick decision. I started warning everyone at work joking that I would put a sign up on my door saying "Enter at your own risk" I didn't think that would be a great advertisement for my physio clients. I had to take quite a few breaths before inserting the needle the first time just to psych myself up enough to stab my stomach
. I kept telling myself " I can do this, I can do this" Flinching at the initial pain as the hormone went into my body, followed by an after pain lasting a few minutes. As the injections need to be done at the same time every day I made the decision to do it early and allow myself to be slow and take my time with my morning routine rather than rushing around like my usual self.
Rewind to the day before and I had my initial ultra sound and blood tests to determine day one of my cycle which allowed the timing for the rest of the cycle to be planned. The first 2 injections are to stimulate the follicles and the eggs for the 14 day cycle starting on day three of my cycle. Apart from some extra bruises adding to the war wounds on my stomach I felt great for the first few days. I actually felt clarity and focus which I wasn't expecting. Then day 7 hit with a bang!
A new hormone introduced as the antagonist (which in itself just sounds dooming) to stop me from prematurely ovulating (to stop the egg from being released before the collection date). A red rash around the injection site, pain, dizziness and fatigue like I have never felt before. Thankfully those symptoms settled within an hour however the tears followed. It's the weirdest feeling, crying for no reason and not being able to stop it, I was sitting at my computer checking in with myself "I'm not sad, I'm not angry but there are tears just flowing down my face". This is when I had a few SOS calls to some friends to reassure me I was going to be ok. Feeling hot, clammy, a little dizzy and very nauseous while trying to get ready for work was a bit of a nightmare. Have you ever tried putting on makeup while you're crying? It doesn't really work. I gave up to avoid having racoon eyes that day. Just reminding myself it's short term.
Also I wouldn't recommend going on a first date the day you have to start hormone injections, feel bloated, swollen and trying not to be hormonal and blubber in front of the unsuspecting guy who has no idea what's going on. Wasn't a great look! Thankfully he was understanding and very sweet.
What followed was blood tests and ultrasounds to count the number of follicles which allowed the egg collection date to be determined and to make sure everything is on track. I had 14 follicles on the last ultrasound which I was very happy with. The IVF clinic were great, my nurse was available to chat whenever I needed it and I knew what I had to do at each step so it wasn't as overwhelming as I thought it was going to be.
As the days went by I progressively got more and more swollen, bloated and nauseas. My brain felt like mush the whole time! I have never been so happy to inject the last hormone which was number 5 of that day
; the trigger injection which is to help release the egg from the wall of the follicle so they can be retracted but not before the eggs are released out of the ovary. This is very precise and 36 hours before egg collection. The following morning I had to do an ovulation test which just happened to find me at a doctors appointment at the time I was supposed to take it so chilling out in the public bathroom while I waited for the result felt absolutely ridiculous.
The morning of the egg collection was by far the worst. I felt like my insides were going to burst. Literally! Which happened to fall on day 14 of my cycle and 2 weeks before my 38th birthday! The Irony. There was a few moments just before I went in that I wondered to myself "What if there aren't any eggs? what if this has all been for nothing". Because at the end of the day it's up to your body and how it responds to determine the result. I took a big breath and knew that I had done everything they asked of me and the rest was out of my control.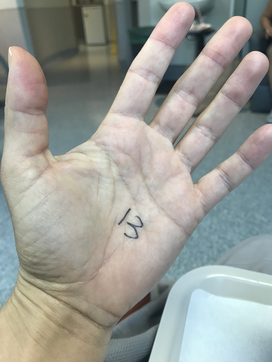 I woke up from surgery with everything attached to me to monitor my body (again i'm not great with anaesthetic, I tend to take my time to wake up, this was also my 3rd anaesthetic in 3 months) I wondered how many eggs they had taken. It was my first thought. Did it work? Then I heard the nurse telling the woman across from me that she had a number on her hand to tell her how many eggs they had collected.
​Immediately I was excited and wondered if I had the same. I looked at my hand and there it was, the number 13 written in black marker on my palm. I actually cried happy tears. I was beyond relived that it worked, that I woke up and it was over.
That afternoon I received a call from the IVF scientist telling me that 12 of my eggs were mature enough to freeze and were stored in liquid nitrogen. Again I felt relief and so much gratitude to my body for what it had gone through. I was finished and could start the recovery process.
Which in itself is a different story. Everyone recovers differently. It took longer than I expected, the first 3 days are the worst nausea was my biggest problem followed by swelling and difficulty getting my bladder and bowel to work properly again. The follicles need to refill after the egg collection and this process can go up and down as I discovered on a midnight trip to the emergency department with unbearable pain that medication was not changing. However it does settle and normal life does resume. What I asked of my body was huge!! All I could give to it was kindness and rest when it needed it.
There are risks, there is pain, there is character growth when you inflict pain on yourself but overall there is a much bigger picture that is worth going through all of that for.
Time and the chance to be a mum one day.
​
​Mel xx